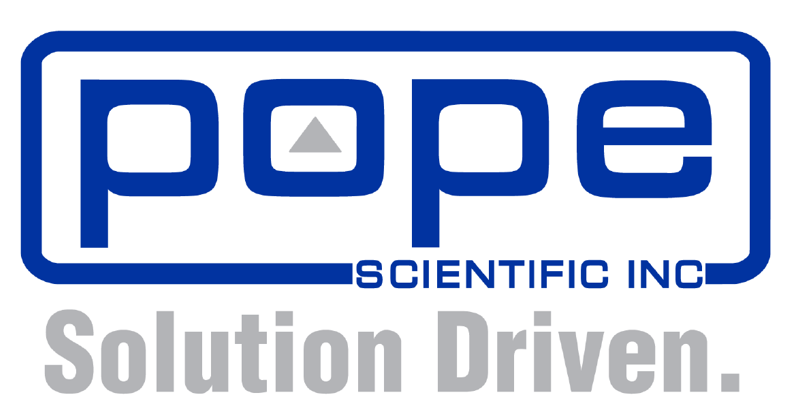 Chemical Process Equipment
Pope Scientific wiped film (short-path) molecular stills and evaporators, fractional column batch and continuous mode distillation systems, hybrid still systems, stainless steel pressure vessels, process vessel systems including reactors, mixing vessels and turnkey liquid processing systems, Nutsche filter-dryers, and cryogenic Dewar flasks can all be found throughout the world in a wide array of production processing industries, pilot plants, laboratories, universities and institutes.
Wiped-Film Molecular Stills & Evaporators
Pope Scientific Short Path/Wiped-Film Stills (WFS) and Wiped-Film Evaporators (WFE) successfully separate volatile from less volatile components for Oils, Fats, Chemicals, Polymers, Nutraceuticals, Fragrances, etc., with a gentle process utilizing the thin-film wiping action of feed liquid through a heated cylindrical vacuum chamber with high vacuum
Efficient thermal separation with minimum product decomposition and maximum product quality are results you can expect using this Wiped Film-Short Path process for;
    • Concentration/Evaporation
    • Molecular Distillation
    • Polymer Devolatilization
    • Solvent Stripping/Degassing
    • Oil Deodorization
    • Residue Removal/Decolorization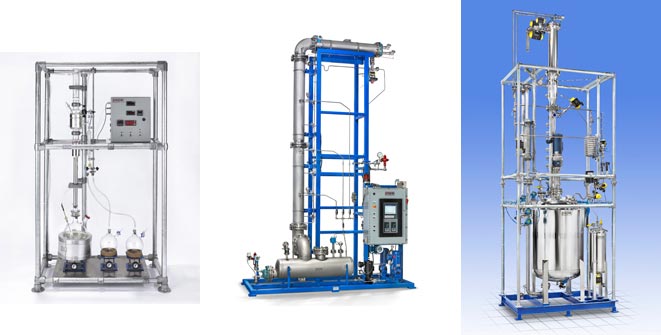 Fractional distillation is particularly suitable for critical applications that require separation of complex mixtures such as fine chemicals, pharmaceuticals, foods, flavors, cosmetics, extracts, etc. – anywhere where a finer level of purity is needed or when component's boiling points are close.
    - Designed for purification, fractionation and solvent recovery
    - Size for small to mid-sized processing, pilot plants and laboratory work 1-12" Diameter, 0.1-500 kg/hr. throughput
    - Wide range of packing and internals, system designs and materials, including stainless steel, Hastelloy, glass, etc.
Still Versions

    - Batch Mode Stills : Used when relatively small quantities of liquid are to be processed, or when a high level of purity is required.
    - Continuous Mode Stills : Used when larges or continuous quantities of liquid are to be processed and/or when a very high level of purity is not required.
Continuous Mode Stills
Process Vessels, Reactors
POPE has provided stainless steel process vessels to research laboratories and industries of all kinds. Beginning with standardized pressure vessels for holding and dispersing solutions to special vessels, reactors, and complete turnkey integrated processing systems. Sizes range from less than 1-liter to 1000 liters or more, with pressure from high vacuum to 500 psi, and with temperature ranges up to extreme ranges.
Nutsche Filter Dryers (ANFD)
Pope Nutsche filter-dryers provide capabilities for solids filtering, washing, re-slurrying and drying in a single vessel, reducing process time and worker and environmental exposure. Pressure capability facilitates filtering rate and vacuum capability facilitates filter cake drying rate which can be additionally aided by heat and cake agitation.
- Available in lab bench through pilot plant and production scale
- Volumes from 0.2 through 1000 liters
- 316L stainless steel fabrication or other alloys including Hastelloy C-276/C-22 optionally available
- ASME stamped and certified for full vacuum and pressures up to 200 psi, at -80°C to 250°C temperature.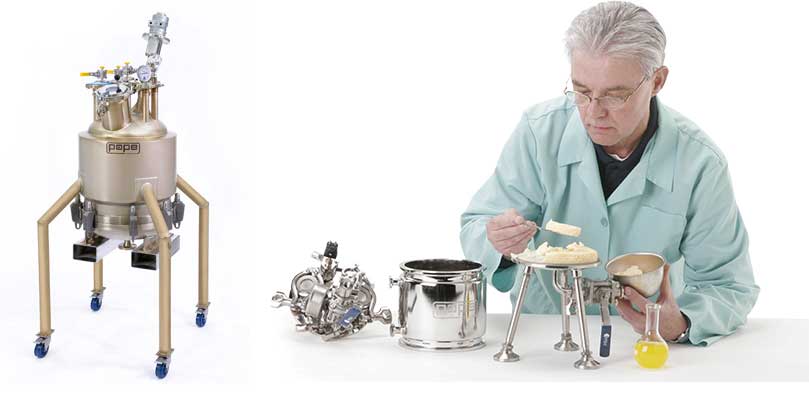 บริษัทแสงวิทย์ 2000  นำเข้าและดูแลเครื่องมือที่มีคุณภาพสำหรับการสกัดแยกสารสำคัญในกัญชาและกัญชง, การทำให้สารสกัดมีความบริสุทธิ์มากขึ้น, จนถึงการเตรียมวิเคราะห์คุณภาพ โดยมีระบบเริ่มต้นตั้งแต่งานวิจัยในห้องปฏิบัติการ จนถึงระบบการผลิตเต็มรูปแบบในอุตสาหกรรม สามารถจัดชุดเครื่องมือให้ตรงกับความต้องการและการใช้งานของลูกค้าได้อย่างเหมาะสม