DYNOmite Dynamometer offers the world's largest dyno lineup ( 1 to 10,000+ HP )
DYNOmite Dynamometer's diverse product lineup allow us to provide dyno testing solutions to the performance, powersport, and diesel industries, as well as many others.
DYNomite Dynamometer ครื่องทดสอบประสิทธิภาพยานยนต์ ใช้สำหรับวัดรอบ (RPM), วัดแรงบิด (Torque) และวัดกำลังเครื่องยนต์ (Horsepower)
DYNomite Dynamometer เป็นแบรนด์ชั้นนำจากประเทศสหรัฐอเมริกา (U.S.A) มีหลากหลายประเภทให้เลือกตามความเหมาะสมในการใช้งาน
| | | |
| --- | --- | --- |
| CHASSIS DYNO | | |
| | | |
| | | |
| 2WD Chassis Dyno: Dual-Roller | 2WD Chassis Dyno: Single-Roller | |
| | | |
Dynamically balanced and machine traction-grooved rollers dramatically limit vibration and tire slip in all roll sizes. With DYNO-MAX, you can simulate driving conditions by emulating vehicle inertia, air drag, rolling friction, road grade and more.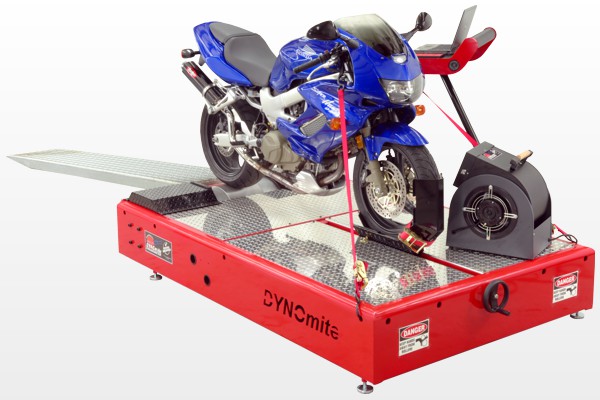 Kart & ATV Dyno
ENGINE DYNO

Eddy Current Absorber with Air-Cooled
DYNOmite engine dynamometers are affordable, state-of-the-art dyno systems featuring sophisticated data-acquisition electronics, billet absorbers, and industry's best performance and product support. Used for testing car engine of both gasoline and diesel.
Small Engine Dyno

Modular Dynamometer Labs for the school, kart race shop, or track.

Dynos that mount easily, with or without engine removal.

Components for testing many small engines to 20+ Hp.
AXLE-HUB DYNO
Axle-Hub dynos feature quick roll-in mounting with automatic camber adjustment with no leveling necessary. Available with eddy-current and/or AC (motoring) absorber options.
Includes pair of heavy-duty rolling modules with eddy-current controller and high - speed (medium inertia) air-cooled absorbers, automatic camber compensation.
SOFTWARE & ACCESSORIES
Data Aquisition DYNO-MAX "Pro" Software and Accessories